Words from Dr Leah Seaman from Kapiri District Hospital, Zambia.

"We have been using the Diamedica Portable Baby CPAP for over a year in our Neonatal Unit. We are a semi-rural district hospital in Zambia with admissions of around 70 neonates per month, sometimes more. I'm sure that the experience is the same the world over, but babies needing acute care seem to all arrive at the same time and we often have all formal CPAP machines in use.

The portable CPAP enables us to quickly stabilise and buy time until a formal CPAP machine becomes available, sometimes even using it for two babies at a time. Because it is lightweight and has a long battery back-up we can set it up in whichever bed-space the baby is in, not needing to find an electrical socket, at least initially. It has been life-saving in these situations especially with premature neonates who often do not have reserves to wait some days for a formal machine to become available. If a baby is on a formal CPAP which is in urgent need of servicing, we use the portable for the duration of time that the other machine is out of the ward. We recently had a run of power cuts where our generator also failed us, and it is safe to say that we have babies in our community today who would likely not have survived without being moved onto the portable for that duration. For babies who need the CPAP support without high Fi02 requirement (it can provide up to around Fi02 of 40% with supplemental oxygen connected) they do generally stabilise very well and in a similar way to when on the formal machines.

The next step would be to look at getting a dedicated portable CPAP into the delivery room and also the ambulance so that babies don't have to wait to reach the SCBU to receive this respiratory support. The machine gives opportunity to provide CPAP from birth, making steps to prevent the downward spiral of respiratory distress in premature babies due to prolonged periods of increased work of breathing. Because it is so simple to set up and operate, I am optimistic that it can be used effectively by all members of staff who are the first contact for sick and premature babies. The portable CPAP machine has been a valuable asset to our Neonatal Unit and the care we can provide".

Find our more about the Portable CPAP and our Neonatal Range here.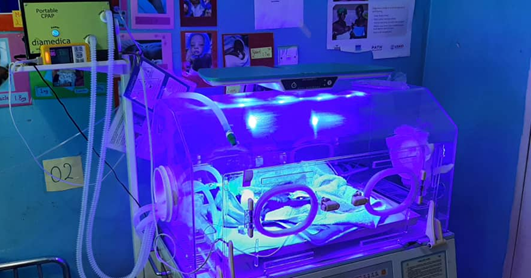 The Diamedica Portable CPAP in use at Kapiri District Hospital, Zambia