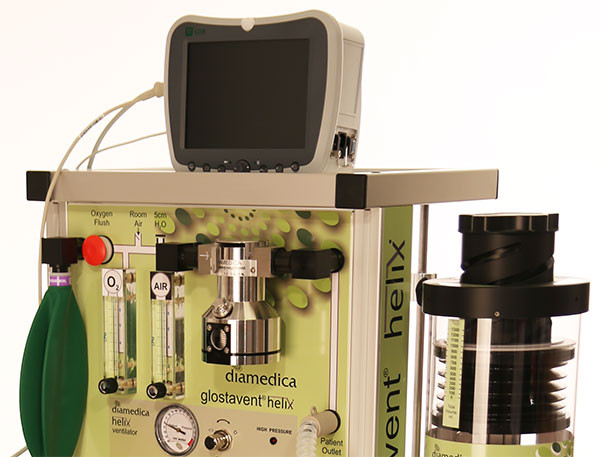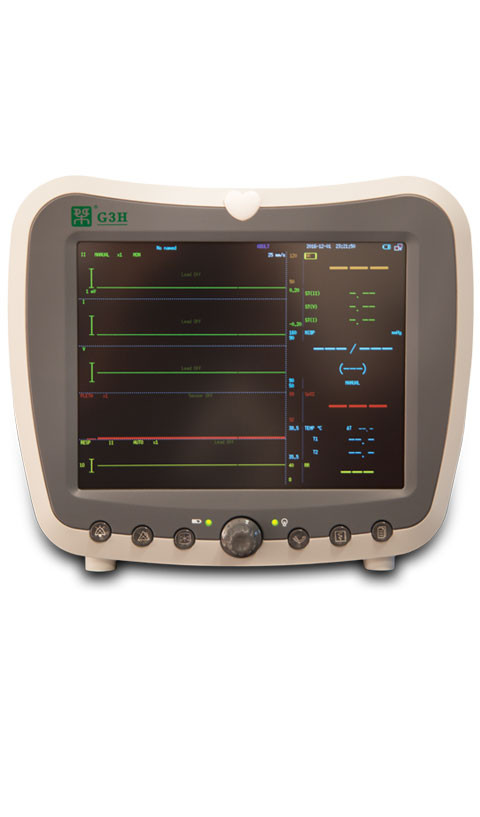 About Patient Monitor
The G3H patient monitor has a combination of features, price and size that create a patient monitor ideally suited for use in remote locations and low income countries. This patient monitor can be supplied together with the Diamedica Glostavent® Anaesthesia machine and where necessary be powered by the UPS on the Glostavent. Alternatively the monitor can be supplied as a standalone unit.
Key Features
Light, portable and compact

Ideally suited for use in emergency rooms, pre and post operative care, ICU, operation rooms/theatres, labour and delivery. Also ideal for mobile use.

Adult, paediatric and neonate cuffs and Sp02 probes.

Standard configuration: ECG, NIBP, SpO2, HR/PR, 2-RESP, 2-TEMP,  ST analysis, Arrhythmia analysis. Optional configurations available including ETC02.

Application modes: Monitoring, diagnosis, operating

Operating menu: Multi-language interface selection. Easy operation with user-friendly menu structure. User-friendly dialogue interface with pop-up menus  and dialogue boxes

Protected against electrosurgical and defibrillation interference

72 hours data storage

Intelligent audio and visual comprehensive alarm

Low power consumption, standby mode and built in rechargeable battery
Specifications Patient Monitor
General
Display type: 8.4" colour TFT LCD screen with maximum 7-waveform data
Power Requirement: 100-240 VAC, 50/60Hz
Battery backup: 3 hours
Temperature (surface and rectal)
Number of channels: 2
Resolution: 0.1C
ECG
Input: 3 wires/5 wires ECG cable
Sweep speed: 6.25, 12.5, 25, 50mm/s
Heart rate range: 15-380 bpm
Calibration: ± 1mv SpO2
SpO2
Measurement range: 0 - 100 %
Plus measurement range: 30 - 250bpm
NIBP (Non-invasive blood pressure)
Measurement type: Adult, paediatric, neonatal
Measurement parameters: Systolic, diastolic, mean
Measurement method: Manual, automatic, continuous
Respiratory Rate
Nasal tube: 0 - 120 bpm (adult)
Resolution: 1bpm
Get a quote
Get a quote for this product by filling in the quick contact form below.